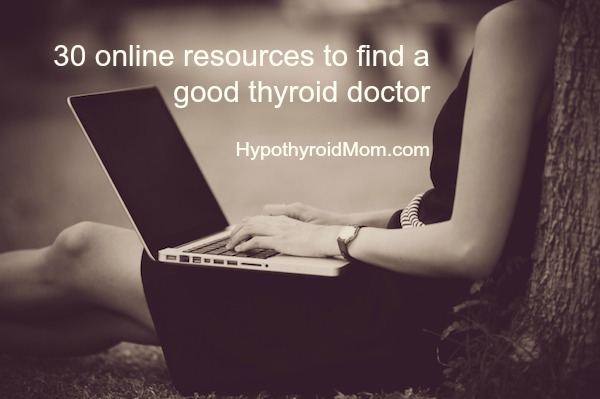 by Dana Trentini, the Hypothyroid Mom


How do I find a good thyroid doctor?
Many of my followers find my blog or Hypothyroid Mom Facebook page by chance searching the internet.
They read articles about how
TSH
alone is an unreliable thyroid lab test, and they wonder…
Why do I feel terrible even though my doctor tells me my TSH is normal?
They read articles on my blog about
full thyroid testing
including Free T4, Free T3, Reverse T3, and thyroid antibodies, and they wonder…
Why hasn't my doctor done these tests?
They read comments from fans on my Facebook page about how T4-only Levothyroxine
thyroid medications
like Synthroid don't work for them, and they wonder…
Why does my doctor insist Levothyroxine is the drug of choice?
They read how a combination of T4 and T3 thyroid meds in my case in the form of
natural desiccated thyroid
changed my life, and they wonder…
Why hasn't my doctor told me about these different treatment options?
They read posts about the many components of thyroid health including adrenals, sex hormones, iron/ferritin, food sensitivities, inflammation, leaky gut, and nutrient deficiencies, and they wonder…
Why hasn't my doctor ever mentioned these things to me?
They read the most popular Hypothyroid Mom article
300+ Hypothyroidism Symptoms…Yes REALLY
, and they wonder…
My doctor says my symptoms are all in my head, but is it possible my doctor is wrong?
They have an 'a-ha' moment when they realize that maybe their doctor isn't the right doctor for them, and they wonder…
How do I find a good thyroid doctor?
Online Resources To Find A Good Thyroid Doctor
It can be a frustrating journey to find a good thyroid doctor but they are out there and they are worth the search.
A good doctor can change your life. I know because I had the fortune of finding a great doctor who changed my life and I hope the same for all of you.
I can't possibly know all the doctors listed in these resources so I can't personally endorse them. The goal of this post is to provide online resources that will help you in your search to find a good thyroid doctor in your area.
1. ThyroidChange Patient-Recommended Thyroid Doctor Lists
ThyroidChange provides patient-recommended thyroid doctor lists for the
United States
,
Australia
,
Canada
, and
International
. The practitioners listed meet the following criteria:
Willing to order thyroid labs such as Free T3, Free T4, and Reverse T3 in addition to TSH and thyroid antibodies, and is responsive to patient symptom report
AND
Willing to prescribe natural desiccated thyroid medication, T3-only medication (Cytomel) and/or combination methods, such as T4-only (Synthroid) and T3-only (Cytomel).
2. Mary Shomon's Top Thyroid Doctors Directory
Best-selling author Mary Shomon has a
Top Thyroid Doctors Directory
which provides an extensive list of top doctors in the United States and internationally. The doctors listed are endocrinologists, thyroid specialists, thyroid surgeons, thyroidologists, integrative physicians, and other practitioners who have been highly recommended by patients.
Mary's book
Living Well with Hypothyroidism: What Your Doctor Doesn't Tell You…That You Need to Know
changed my life. Mary is also author of the New York Times best-selling book
The Thyroid Diet: Manage Your Metabolism for Lasting Weight Loss
.
3. Gena Lee Nolin Patient Recommended Doctors
Gena Lee Nolin is the first internationally-known celebrity to tackle thyroid disease awareness. She provides a great list of
patient recommended doctors
on her website. Gena partnered with Mary Shomon to write the excellent book,
Beautiful Inside and Out: Conquering Thyroid Disease with a Healthy, Happy, "Thyroid Sexy" Life
4. Your Thyroid Pharmacist's Recommended Clinicians and Health Coaches
Dr. Izabella Wentz's book
Hashimoto's Thyroiditis: Lifestyle Interventions for Finding and Treating the Root Cause
is a must-read for every person with the thyroid autoimmune condition Hashimoto's. Dr. Wentz is currently building a directory of recommended clinicians and health coaches for the treatment of Hashimoto's. Her directory
Recommended Clinicians & Health Coaches
includes the United States, Europe, Canada, and Australia.
5. Thyroid UK List of Private Doctors & Practitioners
Thyroid UK provides information and resources to promote effective diagnosis and appropriate treatment for people with thyroid disorders in the UK. They compiled a
List of Private Doctors & Practitioners
who have a special interest in thyroid disease. They also have a list called
Where Can I Get Desiccated Thyroid Hormone?
for patients searching for UK pharmacies that have natural desiccated thyroid hormone.
6. Dr. Datis Kharrazian Thyroid Connections
Dr. Datis Kharrazian is an expert in autoimmune disorders, chronic illness, and neurological disorders. He has personally trained several thousand health care professionals and currently has educated a group of more than a dozen doctors to lecture nationally. He provides a practitioner locator called
Thyroid Connections
to help patients locate healthcare professionals trained in his approach as well as a list of the practitioners that lecture for Dr. Kharrazian.
He is author of the fabulous books
Why Do I Still Have Thyroid Symptoms? When My Lab Tests Are Normal
and
Why Isn't My Brain Working?

A Revolutionary Understanding of Brain Decline and Effective Strategies to Recover Your Brain's Health
.
7. RLC Labs Nature-Throid & WP Thyroid Doctor Locator
RLC Labs manufactures the natural desiccated thyroid brands Nature-throid and WP Thyroid. They provide a
Thyroid Doctors locator
where you can find doctors that prescribe their thyroid hormone replacement drugs throughout the US by state or zip code.
8. Armour Thyroid Doctor Locator
Here is a site where you can
locate doctors
who prescribe the natural desiccated thyroid brand Armour by US state, city, or zip code.
9. eCompounding Pharmacy
A compounding pharmacy is a specialized pharmacy that makes medications from scratch to customize the medication to meet the patient's specific needs. There are compounding pharmacies worldwide that produce customized thyroid medications including combinations of synthetic T4 and T3, sustained release T3, and compound desiccated thyroid using the raw natural desiccated thyroid powder.
I've heard from many Hypothyroid Mom readers around the world who have had success finding great thyroid doctors by calling compounding pharmacies in their area and asking for the names of doctors that prescribe compounded thyroid medications. Here is a directory to
locate compounding pharmacies in the United States
.
Also contact all the regular pharmacies around you and ask for the names of doctors that prescribe T3 and natural desiccated thyroid.
10. CompoundingPharmacies.org
Here is another resource to
locate compounding pharmacies throughout the United States
.
11. Compounding Chemists across Australia
I often hear from Australian readers who have success locating open-minded thyroid doctors by calling local compounding pharmacies. Here's a
l

ist of compounding chemists across Australia
.
12. International Academy of Compounding Pharmacists
The IACP provides
Compounder Connect
on their Facebook page to help find compounding pharmacies in the U.S., Canada, United Kingdom, Australia, Germany, Mexico, Puerto Rico, and New Zealand.
13. ThyroidChange Compounding Pharmacy Lists
ThyroidChange provides
patient-recommended compounding pharmacy lists
for the US and International.
14. The Institute for Functional Medicine
Functional medicine addresses the underlying causes of disease using a whole person approach. I've been fascinated by the Hypothyroid Mom guest posts written by renowned functional medicine doctors –
10 Signs You Have A Thyroid Problem and 10 Solutions For It
,
Is Yeast Overgrowth Destroying Your Thyroid Health? The Hidden Epidemic
, and
A 7-Step Plan to Boost Your Low Thyroid
.
The Institute for Functional Medicine provides an international list of practitioners who have trained with IFM –
Find a Functional Medicine Practitioner
.
Now being a functional medicine practitioner doesn't necessarily make that practitioner great with the diagnosis and treatment of thyroid disease. However given the focus of functional medicine on determining the underlying causes of disease it's likely they will be more open-minded than mainstream medical doctors when it comes to thyroid. The remaining resources in this article refer to directories to locate doctors in areas of healthcare that tend to be more open-minded than conventional medicine.
15. Functional Medicine Doctors
Functional Medicine University makes available to the public a
world wide directory
of health care practitioners who have completed training in the Functional Medicine Training Program offered by F.M.U.
16. Revive Primary Care
Revive Primary Care is a digital platform designed to connect people with functional and holistic doctors that focus on the root cause of a patient's problems. Their
Practitioner Directory
locates a practitioners by U.S. ZIP Code and includes Category search including Adrenal Fatigue/Endocrinology, Auto-Immune Diseases, Chronic Fatigue Syndrome, Chronic Pain/Migraines, Endocrinology, Fibromyalgia, Lyme Disease, and Thyroid Disease.
17. American College for Advancement in Medicine
The American College for Advancement in Medicine is a recognized leader in integrative medicine education and advancement. Integrative medicine takes account of the whole person (body, mind, and spirit), includes all aspects of lifestyle combining both conventional and alternative approaches. ACAM provides a
Physician+Link directory
to locate integrative medicine practitioners in the US and internationally. Their locator also includes the option to select "Specialities" where you'll find Thyroid Disease listed.
18. International College of Integrative Medicine
The International College of Integrative Medicine provides an
ICIM Member Search
feature on their website to locate doctors by zip code and state, as well as an international member list.
19. American Association of Integrative Medicine
The American Association of Integrative Medicine provides a
Find-a-Provider Directory
by U.S. State and Specialties including Holistic Medicine, Integrative Medicine, Naturopathic Medicine, Women's Health Care, and Hormone Replacement Therapy.
20. The Center for Mind-Body Medicine
The Center for Mind-Body Medicine teaches scientifically-validated mind-body medicine techniques that enhance each person's capacity for self-awareness and self-care to health professionals around the world, including those in traumatized communities in the greatest need. People always ask them for integrative healthcare provider recommendations so they created a
Find a Practitioner
to locate health professionals Certified in Mind-Body Medicine and graduates of their Advanced Mind-Body Medicine Training Program located in the U.S., Canada, Egypt, Israel, Mexico, Philippines, Saudi Arabia, Spain, and United Kingdom.
21. American Board of Integrative Holistic Medicine
The American Board of Integrative Holistic Medicine provides a directory to locate
ABIHM Certified Integrative Holistic Physicians
by U.S. State or Canadian Province with Specialities including Bioidentical Hormone Therapy, Endocrinology, Environmental Medicine, Functional Medicine, Pain Management, and Pediatrics.
22. The American Academy of Anti-Aging Medicine
The
Coalition for Better Thyroid Care
is a non-profit organization dedicated to promoting improvements in thyroid care. They have an excellent note on their Facebook Page
Finding the best doctor for your thyroid journey
. I discovered the American Academy of Anti-Aging Medicine in this note on their Facebook page.
The American Academy of Anti-Aging Medicine is a nonprofit dedicated to the advancement of technology to detect, prevent, and treat aging related disease and to promote research into methods to retard and optimize the human aging process. The A4M provides a worldwide
Anti-Aging Directory
to find anti-aging physicians, clinics, medspas, products, and services.
23. American Holistic Medical Association
Holistic medicine integrates conventional and complementary therapies to promote optimal health, and prevent and treat disease by addressing the whole person – body, mind, and spirit. The American Holistic Medical Association provides a U.S. and international
Find a Provider
search feature with Specialties including Endocrinology, Environmental Medicine, Functional Medicine, Integrative Medicine, and Women's Health.
24. American Holistic Health Association
The nonprofit American Holistic Health Association provides a locator for
AHHA Practitioner Members
in the U.S., Brazil, Germany, and Taiwan.
25. The American Association of Naturopathic Physicians
Naturopathic physicians combine the wisdom of nature with the rigors of modern science with a focus on holistic, proactive prevention and comprehensive diagnosis and treatment. The American Association of Naturopathic Physicians provides a
Find A Doctor
online directory for the U.S. and international with Directory Categories including Adrenal Fatigue/Endocrinology and Chronic Fatigue/Autoimmune Disorders.
26. Canadian Association of Naturopathic Doctors
The Canadian Association of Naturopathic Doctors provides a
Find a Naturopathic Doctor for Canada
.
27. American Osteopathic Association
Osteopathic physicians, or DOs, practice a whole-person approach to healthcare and receive special training in the musculoskeletal system giving them particular expertise in helping patients dealing with pain. The American Osteopathic Association provides a U.S. directory to
Find a DO
.
28. Bioidentical Hormone Doctors Directory
This
bioidentical hormone doctors directory
enables you to find bioidentical hormone doctors by U.S. City, State, or Zip Code. This directory of doctors concentrates on a preventative medical approach to adrenal fatigue, menopause, perimenopause, and andropause (male menopause). Bioidentical hormones are identical in molecular structure to the hormones made in the human body. While the website does not specifically mention thyroid I imagine there is a good chance these doctors would be open-minded when it comes to thyroid given the intricate connection between the thyroid, adrenals, and sex hormones.
29. Women In Balance Institute
Women In Balance Institute is a non-profit organization born out of the desire to be a trusted health resource for women over 40 who are experiencing the natural hormonal transitions of perimenopause and menopause. They provide a
Health Care Provider Locator
to search for providers throughout the U.S. that specialize in Bioidentical Hormone Replacement Therapy and Women's Health.
30. American Academy of Environmental Medicine
The American Academy of Environmental Medicine provides research and education in the recognition, treatment and prevention of illnesses induced by exposures to biological and chemical agents encountered in air, food, and water. The founders and members of the American Academy of Environmental Medicine are recognized as the first to describe or the first organization to acknowledge conditions such as Chemical Sensitivity, the role of mold in the development of systemic illness, CFID (chronic fatigue and immune disorder), and FMS (Fibromyalgia). They provide a U.S. and international
Physician Referral
.
ABOUT THE AUTHOR:
Dana Trentini, the founder of Hypothyroid Mom.
I was diagnosed with hypothyroidism the year following the birth of my first son in 2006. Low thyroid symptoms overtook my life. I was overwhelmed with fatigue. The pregnancy weight was impossible to lose. My hair was falling out. The heels of my feet were cracked and my scalp itched. My legs were numb to the touch. Unusually heavy menstrual bleeding, chronic constipation, and constant infections plagued me. Kidney stones landed me in the emergency room. A healthy woman prior to pregnancy now I had blood levels indicating I was at high risk for a heart attack and pre-diabetic. What had happened to me?
I trusted my doctors and followed their thyroid drug protocol to the letter never once thinking they might not know everything there was to know about hypothyroidism. I trusted them as the experts especially when I became pregnant again in late 2008. I assumed that in New York City, one of the greatest cities in the world, doctors would have all the answers.
I would later learn that my Ivy League medical school trained and top awarded doctors did not know enough about hypothyroidism, especially the dangers of hypothyroidism and pregnancy. Under their care my TSH (thyroid stimulating hormone), the gold standard for measuring thyroid function, reached levels far above the recommended reference range for pregnancy endangering the life of my fetus and I miscarried.
How could I have trusted my doctors unquestioningly and not been a better advocate for my child?
I will live with that regret the rest of my life.
I graduated in 1993 with an Honors Bachelor of Science degree in Neuroscience from the University of Toronto with High Distinction receiving multiple scholarships and prestigious awards. I worked for several years as a high school science teacher for intellectually gifted students. At Columbia University in 2002, I obtained an M.A. in Organizational Psychology and an Ed.M. in Counseling Psychology. A distinguished Columbia University professor selected me as the team leader for his research team during the course of my studies. I was no stranger to scientific research. So why hadn't I used my science background and research skills to learn everything I could about my thyroid disease?
After 5 years of intense research and a quest to find the top thyroid health professionals, I am now in the best health ever. At the age of 40, I got pregnant naturally with my second son and gave birth to him in 2010. The time has come to share all that I have discovered.
There are good doctors out there.

Don't settle.